'Tis the season for creating a warm, welcoming atmosphere no matter how frightful the weather is outside. One of the best ways to create holiday ambiance is with strings of warm yellow or blue-white Christmas lights, indoors and out. Christmas lights decoration doesn't have to be a huge undertaking a la Danny Devito in "Deck the Halls." DIY Christmas crafts and decorations are getting more popular (and more chic) every year, and putting together a lights display is a great way to bond with loved ones or enjoy some creative time to yourself.
50 Creative Christmas Lights Decorations You Can DIY
And, since we can't all be Etsy and Pinterest geniuses, check out these 50 decor ideas to inspire your own Christmas decor adventure.
1. A Tree Full of Stars
Source: onekindesign.com
If you miss green trees and growing things, creating an indoor plant sculpture might help you get through the winter. This DIY Christmas project utilizes the dark wire of the string of lights to form the trunk and branches of the tree. Notice that the lights aren't evenly distributed and the branches aren't perfectly symmetrical, lending it a natural, organic feel. Set up a Christmas lights tree in the living room and turn down other light sources for a gentle glow. This project seems like it would work best if you have a place to hide the plug "tail" out of sight and lots of empty wall to work with.
2. Evergreen Stair Railing Garland
Source: onsuttonplace.com
Evergreen boughs and Christmas lights go hand in hand. Using fake evergreen garlands is probably easier, but you could always stick a few real branches and pine cones in to give it that fresh pine scent. Weave Christmas lights in with the boughs, distributing them evenly, and hang the ornaments after setting it up on the stairs to avoid tangling. A matching ornament scent looks nice, but you could also use the garland as an opportunity to display a mix of handmade ornaments or dangle tiny gift boxes from it with string if you're feeling especially crafty.
3. Mason Jar Lights
Source: allthingsheartandhome.com
Mason jars have risen up as a DIY material in recent years, and these beautiful mason jar lights are so pretty that I'd be tempted to keep them around year-round. You can hang them up with simple wire and tie burlap bows for an extra rustic feel. Make them more Christmassy with multi-colored light strings or alternate jars full of green and red lights. With this project, you might want to use battery-powered lights for hanging jars. For a table arrangement, try running the excess lights around and behind the jars to bring more focus to them.
4. Floating Hoop Lights
Source: deborahsilver.com
This modern Christmas lights decoration requires some empty space to pull off, but it's certainly worth it. Try wrapping hula hoops or cross stitch hoops, or make your own out of wire for an indoor midair sculpture. The different sizes add visual interest. You can create a mobile out of fishing line or string with ornaments, snowflakes, or tiny reindeer for bonus points, too.
5. Rustic Chic Burlap Garland
Source: dumpaday.com
If you love galvanized steel, vintage photo frames, and dreaming about someday incorporating a barn door into your home decorating, this lighted burlap garland is probably for you. It's simple, but decoration with Christmas lights doesn't have to be a hard, sweaty process. The burlap ribbon has a nice texture that contrasts with the lights. For a more year-round decoration, skip the red and green ribbon for all-natural burlap. Or use all green as a replacement for fake evergreen. You can also accessorize with velvet bows, popcorn strings, or bells.
6. Ornament Lantern
Source: casaoriginal.com
Take the mason jar lights one step further by adding ornaments. Set it by the front door to welcome guests, or use it as an indoor lighting source. Using different ornament sizes and shapes could make a unique centerpiece. This Christmas lights decorating idea is elegant and eye-catching, and it's simple to make. Of course, if you don't have an excess of ornaments lying around to donate to a project like this, using pine cones or fake snowballs is an alternative. In a room with a darker color scheme, a white or light-colored lantern would look very striking.
7. Evergreen and Tiny Stars on a Tiered Tray
Source: desniutami.blogspot.com
For an attractive centerpiece, make your own tiered stand with cake trays or pull out Grandma's dessert display. The simple color scheme is what makes this display so pretty: notice the white berries and pine cones, the green pine branches, and the yellow lights and candle. The silver and red ornaments mixed in add contrast. Sometimes you need a Christmas lights decoration that's free-standing and with low potential for mess. The rims of each tier help contain the needles and loose ornaments, and the lights can be used to literally tie everything together, too.
8. String Light Frame
Source: ohohblog.com
Making a string photo board like this is a whole DIY project in itself, but you can use Christmas lights to draw the eye to holiday photos or other displays. Using lights in this way is great if you're limited on space but still want to show holiday cheer. Whether you have rustic wooden frames or modern metal ones, they'll look good with lights on. With a board like this, it would be interesting to weave the lights in and out of the strings and around the photos or run a few strands across the back of the open frame.
9. Gorgeous Snowman Wreath
Source: pinterest.com
Do red and green ever seem too… garish? Create a feminine touch with this elegant (monogrammed!) snowman wreath. The way the gauze overlays the lights on the wreath is truly beautiful. The white poinsettia flowers, purple snowflakes, and pine boughs make this undeniably Christmassy without hurting your eyes. This particular snowman has been personalized with an initial, making it a lovely gift or door marker. The purple and green are vibrant but used sparingly, so they aren't overwhelming.
10. Wrapped Globe Lights
Source: lovinglifebeingchristy.blogspot.com
Another Christmas lights decorating idea that will be hard to take down at the end of the season, these globe lights look especially interesting because you can see through them in places. The round lights are elegant, but different bulb shapes can change the entire impact of the Christmas decor. You could size down with tiny fairy light strings, or wrap the globes more loosely with bigger bulbs. Icicle lights would create trailing droplets from each globe. Some decorations are beautiful without even trying, and this is one of them.
11. Fairy Light Vases
Source: brookstone.com
Tiny, delicate fairy lights add a creative touch of whimsy to the vases, and the mix of vase fillers is interesting, too (but optional—you could always stick with ornaments or pinecones, not both). These lights are amazing for vase filler and tabletop decor projects like these because the trailing wire tails don't look clunky or unfinished. In the vases, the fairy lights become a dense, glowing net around the objects inside. The slim wire size and the spacing between the lights make their "tails" unobtrusive. But if you want to conceal them anyway, a pine bough or a bit of tinsel should help.
12. String Lights and Chinese Lanterns
Source: jasminekhan.tumblr.com
Though the two types of lights have very different shapes and sizes, they work in harmony. Why? Because they use the same bulb color, and because the string lights are draped to appear to be a similar density as the Chinese lanterns. Of course, the gauzy canopy is a nice touch, too. Try out this style in a reading nook or cozy corner, or make an impromptu blanket fort to really enjoy them. Here the lights create different frames and boundaries around the bedroom. You can also try replacing the lanterns with a garland of snowflakes or ribbon.
13. String Lights Headboard
Source: homepimpa.website
If you have limited floor space in your bedroom, this project might be useful long after Christmas is over. The Christmas lights are woven in just enough to fill the space without becoming too structured. Weave them densely enough, and you won't need a bedside lamp! The white wires would look interesting against a darker wall color, too, as would variations in the light bulb sizes.
14. Glowing Birdcage
Source: browngirldecorblog.com
Display your cutest figurines in a craft birdcage wrapped in Christmas lights. Or take a note from the vases and lanterns and put a few pine cones or ornaments into the cage. Since craft birdcages have become more popular in home decor, you can use it year-round, not just for the holidays. The actual Christmas lights decoration here is very minimal but looks impressive against the dark background. White light wires would look best against a white birdcage or light background. Play around with using more or fewer lights for the best effect.
15. "Joyful" Fireplace Mantle
Source: blessings.com
You don't need a fireplace to properly enjoy Christmas, but it sure does help. Write a Christmassy word in string lights over the threshold, over the stairs, or beside the dining room table to remind visitors that Christmas is the best. It's a simple Christmas lights decoration that will still look very impressive (if it's legible). Note how the garland of evergreen and lights provide a frame without taking away from the "Joyful" centerpiece. Leaving space around the sign makes it the main event.
16. Adorable Tiny Campfire
Maybe it's a campfire, or maybe it's an abstract Christmas tree. Either way, this DIY Christmas project is easy, inexpensive, and still manages to look good. Take out your trusty string lights, spray paint some branches white, and dig up some rocks. Using different colors, like painting the branches silver instead of white, might make this more Christmas-themed. If you can't have a real fireplace, this cute faux campfire might make you feel better, even if you can't roast chestnuts over it. You can also bust this project out for rainy days and make (microwave) s'mores.
17. DIY Christmas Shadow Box Display
Lightly paint a shallow wooden drawer or crate, fill with fake snow and tiny trees, and string with posable fairy lights for a rustic, traditional Christmas lights decoration. These little decorations can look perfectly contained or like they're growing out of their frames. The old wood gives the shadow boxes a shabby chic element that the lights balance out. It's a super cute project that's great for limited spaces. Part of the reason this looks so well-designed is because of its simplicity and dark background, keeping the eye focused within the clean lines of the boxes.
18. Basket of Glowing Ornaments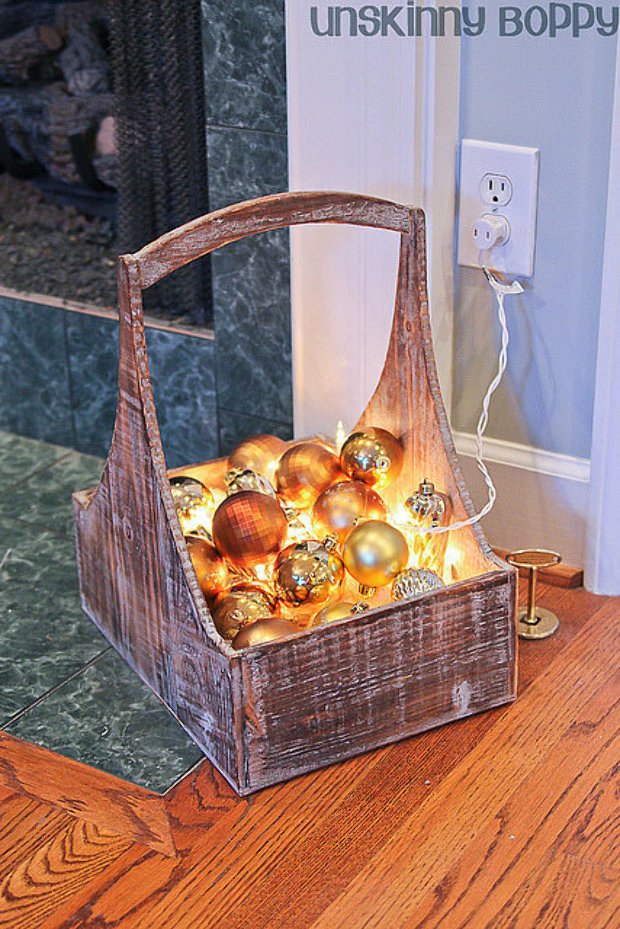 The unvarnished wood contrasts so well with the shiny new ornaments piled inside. Avoid the cord tail by using battery-powered lights, or use a taller container or other objects to obscure it. The ornaments look almost magical! Using a wicker basket might allow the light to shine through a little more, too, or incorporate a metallic bin for extra shine. Surround it with evergreen boughs to show it off even further.
19. Planter Wreath
The thickly wrapped strings of different lights make a cool texture, and the way the ribbon diffuses the light makes it even more interesting. Even though the soil is frozen, you can still "plant" red and brown twig branches in your empty planters. Imagine two of these planters on either side of your front door or leading the way up the walk—nice, right? This planter wreath would also work well with poinsettias or potted baby Christmas trees.
20. Rustic Wine Bottle Chandelier
Okay, this definitely wouldn't be easy to replicate, but wow, is it beautiful! It's hard to beat that vintage wine barrel top and perfect arrangement of wine bottles. You could also work with a vintage wagon wheel or spinning wheel for a similar look. If you're a confident carpenter or know someone who is, this would make an impressive lighting system all year round. Drape with multi-colored Christmas lights and hang some mistletoe or holly to give it that holiday feel.
21. LED Coffee Table Decoration
Glass tables need Christmas lights decorations, too. You can celebrate the holidays in a more minimalist fashion, or incorporate this idea into other Christmas decor. Using the underside of a table isn't a common choice, but keeps the decor there out of harm's way. You could also wrap the table legs in Christmas lights for extra glow. Setting the lights behind glass would also look nice in a photo frame or mirror.
22. Miniature Mirror Chandelier
A combination of branches, Christmas lights, and icicle ornaments might make you feel like the winter wonderland outside your window has come inside without telling you. Mirrors and lights can be a very potent combination. Here you can see the mirror's gilt frame thrown into shadow by the lights and the icicle ornaments in the reflection. It's a very natural-looking tangle that probably had to be placed with precision. Even the uneven way the icicles hang contributes to the overall impression of a natural scene. What other materials can you think of?
23. DIY Faux Pillar Candles
Candles are a classic part of Christmas decor, but sometimes it's better to go flame-free for the holiday season. By filling a translucent plastic bottle with Christmas lights and wrapping it in layers of cut paper, you get all of the warm glow without the fire. Use a clear plastic bottle for best results, and try different papers and cutouts to see their effects. Get ambitious and cut out a season's greeting or reindeer antlers, or rim each faux pillar with tinsel or evergreen. Mix with other decor ideas to make a full and non-flammable holiday display.
24. Merry & Bright Lighted Sign
Source: theonlinestylist.co.uk
For a clean, modern Christmas, a fashionable lighted sign is definitely in order. The white background, simple font, and the glitter really make the letters pop. This probably isn't a kid-friendly project since it requires so much precision. Perfect for a mantle, shelf, or wall, the sign will convince guests that you take the holidays seriously. Make multiple signs in different sizes, colors, or font styles to display around your home. Stick a "Naughty or Nice?" sign in the bedroom! But keep the glitter away from that pristine white board and your clothes if you can. Glitter is notoriously hard to get rid of.
25. Six-Pointed Star Wrapped Wreath
We call them "Christmas lights," but clearly you can use them for other holidays. Whether you celebrate Hanukkah or want to share the joy of the season, a wrapped six-pointed star wreath is a beautiful way to do it. The unique bulb shapes mixed with the wire and beads prevent this Christmas lights decoration from getting anywhere near tacky. The mix of clear and white beads help reflect and diffuse the light, making it a nice indoor piece that won't blind you. Letting the bead wires run a little wild and not worrying about perfect placement actually does this decoration a favor. The beads give it more volume without looking bulky.
26. Minimalist Ladder Christmas Tree
In the right hands, decoration with Christmas lights can remove the need for a tree entirely. If you value your open space, this ladder setup won't make you claustrophobic. The plain wood of the ladder and sparse lights crisscrossing around it look very modern and urban, perfect for the apartment dweller. Pull out your funkiest ornaments for extra visual interest. This probably wouldn't have the same effect if the ladder was made of plastic or metal. Keeping the light strings simple keeps the lines of this minimalist "tree" looking clean and neat rather than busy or cluttered.
27. Fairy Lights Under Glass
The fairy lights look almost alive under the glass domes. This as simple as you can get for a decoration with Christmas lights, but low effort clearly doesn't mean boring results. The different shapes and sizes of the domes and the tangle of lights within them make a magical, almost futuristic lighting display. You could also incorporate little pinecones, figurines, or star-shaped lights for even more magic. Surround the glass domes with tinsel or evergreen as part of a more complex display.
28. Triple Hanging Wreaths, All Tied Up
This clever Christmas door decor uses a giant bow as a centerpiece. Lights wrap each of the wreaths along with shiny red and gold ornaments. The soft glow of the lights and the care taken with the bow and ribbons take this into expert Christmas lights decorating territory. It could be overwhelming if combined with a lot of other decorations, so keeping it simple on a plain white door is a good idea. That big, shiny bow is like the frosting on the cake. A big star would be a pretty alternative, too, or a nutcracker. You'll just have to be careful when opening the door to avoid swinging the wreaths off into the wall or on the floor.
29. Christmas Light Bike
If you have a spare display bike lying around in the yard, it's time to turn it into a Christmas lights decoration for your neighbors to admire. It's a cute, low-cost way to show your holiday spirit to the world. And you don't have to stop at bikes—wrap garden gnomes, broken lawnmowers, old tires—it's time to turn the junk in your yard and garage into creative Christmas lights decorations! Take the funky approach to the holidays by wrapping random objects and obstacles in your yard with lights. Just make sure not to use your good riding bike or anything that doesn't handle cold weather well.
30. Christmas Tree Lights and Ornaments Door Decoration
No room for a tree? Create a decoration with Christmas lights on your favorite door. The color palette and similar ornament sets give this door tree a nice theme. You could also intermix photos of loved ones or a set of themed ornament crafts, or string a beaded garland between ornaments. The snowflakes and tree topper pictured can actually be DIY'd with a few ornament kits you can find at just about any craft store. Let other household members design their own personal snowflake to hang on the door tree.
31. Light-Up Floral Frame
Here's a wall decoration you won't want to take down. Fake poinsettias, holly berries, pine cones, and other holiday plants would give this a more Christmassy look. Mix in a few snowflakes or bits of tinsel, and you've got yourself a party. The clean way the frame contains the thick bouquet of flowers makes this look like a pro decoration with Christmas lights. A gold or silver frame would also work well for the holidays.
32. Corner Christmas Display
Take advantage of a nook in the living room or dining room and fill it with Christmas. What makes this one so appealing is the diagonal visual movement, starting with the white tree branch draped in lights and the slanted "BELIEVE" sign leading up to the top of the cabinet and the tallest mini tree on the far left. Also, note the focus on white and green for the color scheme to keep the multiple decor ideas all tied together. These are relatively easy materials to acquire, too: spray paint a tree branch and wrap it in lights, and grab a bunch of miniature Christmas trees from the nearest department store. The lettering will need the most work, using cardstock or some other kind of thick paper for a refined look.
33. Christmas Light Mini Clouds
Delicate draped lights use the glass stair railing to their advantage. Wrapping every other light or so keeps the string from looking too "cluttered" with tulle fabric. The tulle softens and disperses the light to create a lovely impression, reminiscent of flowers or tiny clouds. You could also use red, green, or metallic fabric and mix this in with other decor ideas, like the Corner Christmas Display. This garland is so simple but magical at the same time. This is also a nice option for people who prefer minimalist or modern Christmas lights decorating. For a little more intensity, wrap or layer the Christmas lights with strings of beads or tinsel.
34. Branch Wreath with Blue Lights
Sometimes those bright blue Christmas lights can be a little hard on the eyes, but using the twigs and branches of the wreath as a backdrop softens them up and adds dimension. It is a welcoming beacon, perfect for hanging on or beside the front door or over the threshold. The simple design means it is easy to set up and not too cheesy, for the more reserved Christmas decorators. You could also use yellow lights for a softer display, but the blue lights make the wreath look like it's tangled with stars. Plus, it makes a great porch light beacon on dark and stormy nights.
35. Outdoor Front Stoop Christmas Lights Display
If you've been wanting to go all-out this whole time, try this display on for size. The two trees wrapped in lights frame the door, which literally glows with all of the lights surrounding it. The light-up presents and the snowman are cute additions, too. The other interesting Christmas decor is the lights lining the pathway to the door. It looks a little time-consuming to set up but certainly has a gorgeous effect. Mix and match these decor ideas to create your own perfect entrance and put visitors in awe of your decorating abilities. Just make sure you don't trip the breaker!
36. White Birdcage with Flower Lights
Flanked by candles in unique holders, the lines of this simple white birdcage cut up the flower-shaped lights inside in a pretty way. You could also place a few figurines or some potpourri inside, or surround the cage with pine boughs and fake snow. The flowering Christmas lights are gorgeous. They're concentrated at the base of the birdcage, but a few appear higher up and at the top, providing visual balance. This is an interesting fixture whether it's alone or mixed in with other decor ideas.
37. Tree Branch with Hanging Lights
It seems like a difficult task to find the perfect branch for this Christmas lights decoration, but it definitely pays off. The three hanging bulbs in the center make this a more practical and permanent lighting fixture, but you could also replace them with hanging icicle ornaments or icicle Christmas lights. The branch works as a lovely focal point, making the space below it an ideal spot for another display. The only downside is that the branch setup needs to be near a discrete power outlet to look its best.
38. Bed Frame Lights
This bedroom decor would also work for any sort of open framing, like stair railings or some kinds of chair. Since the bed is set in the corner, it's easy to hide the cords for a neat design. The process of weaving in the Christmas lights doesn't have to be elaborate: the interesting shape of the bed frame keep this from looking boring or uninspired, but your personal taste might demand more lights. This kind of Christmas lights decoration would work well with patio furniture, too.
39. Ornamental Shelf with Evergreen
A good way to utilize an ornamental mirror is to surround it with reflective decorations and lights. The reflected light will make the room seem bigger and brighter. Decor ideas like this look great over a fireplace, but can also work with bookshelves and curio cabinets. The simple color choices, with a focus on the green of the evergreen boughs and the silver of the candle holders, keeps this decoration looking refined. The Christmas lights add a touch of extra light to the pine boughs that would otherwise be lost. If real fire isn't a good option, realistic fake candles or more Christmas lights are easy solutions.
40. Cute Christmas Card Display with Christmas Lights
Tired of your counters and refrigerators being covered with Seasons' Greetings and well-wishes? When horizontal space is at a premium and your fridge face is cluttered enough as it is, a framed "clothesline" style display is a nice way to show off your Christmas cards without creating more clutter. You can even replace the Christmas light strings with hemp or yarn to continue using the frame during the rest of the year. These lights are cute but don't get in the way—their soft glow and spacing keep the focus on what's really important: the cards and photos. Another crafting possibility is to use a framed corkboard or magnetic board to pin cards and photos while running lights around the outside. This is such a sweet way to keep loved ones in mind during the holidays and display cherished memories.
41. Rustic Chic Christmas Tree Canvas
Using raw materials straight from nature is inexpensive, but can look as good as a professional art piece with the right design. Note how the pieces of wood fall within a small color range for the most part while varying in thickness and overall shape. With a little hot glue, you've got a masterpiece! The tiny lights are the finishing touch. They warm up the canvas and give the wood more dimension by creating shadows. They also provide a contrast to the otherwise muted colors. You can experiment with different wood materials (or use something else entirely) and backgrounds to achieve your desired effect. This Christmas wall canvas DIY project can be customized to the room it will be displayed in, which is another perk.
42. Paper Cup Lights Garland
Need a light fixture and low on cash? Never fear. This glowing garland utilizes paper cups to diffuse the light of the Christmas light string. Whether you want to create a soft evening ambiance or party atmosphere affects what kind of cup will work best. In the photo, the cups obviously come from one or two similar packs. The muted colors and limited designs keep the garland from looking too garish or from not diffusing enough light. Using cups that are too dense or opaque won't give the desired effect. Use Christmassy shades of red, green, white, or metallics. Another option is to use simple cups and then dress the garland up with holly or strings of beads or popcorn.
43. DIY Wire Christmas Tree Lawn Sculpture
It's as simple as buying or DIYing a wire tomato cage (if you're already a gardener, you might be making them yourself out of concrete reinforcement wire mesh). Wrap it in lights with green wire for a minimalist tree, or with white wire lights to imply freshly fallen snow. Using wire mesh means you can play with the size of the tree sculpture, but tomato cages are easier since they are pre-shaped into a cylinder. Just turn the cage upside down and secure the three or four stakes into a point. Tomato cages are also usually galvanized so they won't rust, unlike wire mesh. Make sure to secure your tree sculptures somehow if you live in an area with winter winds.
44. DIY Light-Up Snowman Ribbon Sculpture
This project provides great DIY ideas for a Christmas snowman project. Check out the wire frame base—it looks similar to wire cages used for garden plants. Wrap the wire frame in Christmas lights, then loosely layer shimmery translucent ribbon to taste. It's a nice way to transform an outdoor display into an indoor piece without breaking the bank. The ribbons create volume, but their translucency combined with the lights keep the sculpture from looking "dense," so it seems to take up less space than it does. Have a lot of ribbon lying around? For a fun challenge, try making a snowman head and accessories out of ribbon, too.
45. Wooden Spinning Wheel Wrapped in Lights